10/16/18 Dead Daisies New Single and European Tour
"Can't Take It With You" is the latest single of their album Burn It Down and it was released last week. The band is preparing to join the KISS Cruise VIII prior to a run of festival and headlining dates through November and December in the UK and Europe. To make things extra special, at their headlining shows, the first 50 fans in line will get a Meet & Greet and "Daisyland" Acoustic Set. That's worth showing up early for! More info can be found on their website.

10/16/18 Train to Release Greatest Hits
On November 9, Train will do what they have long avoided - release a greatest hits compilation. It will consist of 16 of the songs that made the band what they are along with a cover of Careless Whisper featuring Kenny G. The album is available for pre-order at the band's website, along with some pre-order merchandise bundles. Singer Pat Monahan promises to be back in a few weeks with more news.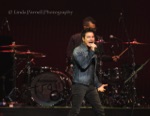 10/17/18 Joe Perry Returns to the Road
In support of his solo album Sweetzerland Manifesto, Joe Perry will be returning to the road for ten shows, mostly in early December. His band features Aerosmith bandmate Brad Whitford, and Gary Cherone of Extreme. VIP packages are also available, and include a meet & greet, Q&A session and soundcheck party. More info can be found on Joe's website.

10/18/18 Frank Hannon Releases Cover Video of "Hush"
The Tesla guitarist has quite an active solo career and his latest project includes "multiple albums of cover songs, tributes and collaborations." The Deep Purple tune, "Hush" is featured on the latest release, From one place… to Another! Vol. 2, and features Randy Hansen (Jimi Hendrix tribute guitarist). The song displays Hannon's outstanding guitar work, and the rest of the album will be equally gratifying, no doubt. Pre-order information and special offers can be found on the website.

10/25/18 Mark Slaughter, Lance Lopez Get Grammy Nods
Both artists have been nominated in the first round of voting for the 61st Grammy Awards.
Mark Slaughter was nominated for the category Best Rock Performance for his album Halfway There.
Lance Lopez was nominated for the category Best Contemporary Blues Album for Tell The Truth.
Congratulations and good luck to them both!


10/26/18 New Release by Icarus Witch Out Today
The latest release by Icarus Witch, Goodbye Cruel World, is finally out. You can support the Pittsburgh based metal band by purchasing the album from your local store or at the band's website. They will be playing an album release party on Oct. 27 at Get Hip Recordings in Pittsburgh. Details are also on their website. Icarus Witch

11/9/18 Iron Maiden Announces 2019 U.S. Tour
The Legacy of the Beast Tour will head to the States in the summer of 2019. The European leg of the tour featured a larger than life stage show and one heck of a set list, so the U.S. can expect the same. The Raven Age will open on all dates and tickets go on sale November 16 for the fan club and other pre-sales and November 19 for everyone else. VIP packages will be available. Check the band's website for the latest news on the tour.

11/11/18 Joe Perry Hospitalized After Guest Performance
The Aerosmith guitarist had just performed with Billy Joel at his Madison Square Garden show when he reported feeling short of breath. Paramedics transported him to a local hospital where he was reported alert and responsive. He will be unable to appear at the Rock and Roll Fantasy Camp and apologized to fans, but is expected to be back on the road as expected later this month.